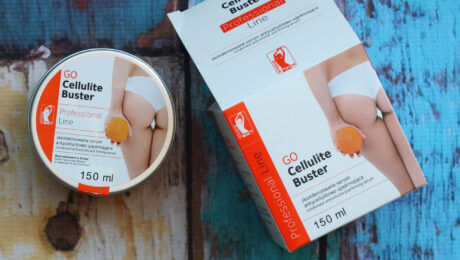 Go Cellulite Buster anti-cellulite serum is a product for fighting cellulite. What makes it stand out among cosmetics of this type? A meticulously selected composition and amazing fragrance. In addition, Go Cellulite buster features a reliable performance.
The serum works by burning subcutaneous fatty tissue. The effects of using this product are significant and deep reduction of cellulite and smoothed and strongly firmed skin. Winning the battle with orange peel can finally become a reality!
This condensed anti-cellulite and firming serum provides 6 key benefits:
Quadruple action thanks to its pharmaceutical formulation and four active ingredients.
Intensive effect on all 4 stages of cellulite
Perfectly smoothed and strongly retexturized skin
Accelerated burning of subcutaneous fat
Rejuvenated skin
Comfortable application thanks to the refined texture
To achieve the effect of reduced cellulite it is necessary to improve cell metabolism, through which the subcutaneous fat will be combusted. As a result of Go Cellulite Buster skin cells and fatty tissue are gradually shrunk. Serum helps to maintain blood circulation and supports the detoxification of the body. Proper moisturizing and soothing effect is also important and is a part of the serum's action.
The cosmetic offers multidirectional effects thanks to a combination of active ingredients with the latest structural formulas which guarantee high bioavailability and deep tissue penetration.
Among the active ingredients are:
Hydrolyzed extract of Rhodopycea, which exhibits extensive cosmetic effects.
It has an anti-free radical effect, which slows down the skin aging process. It has moisturizing and anti-inflammatory properties. It improves microcirculation, thanks to which the skin looks healthy and is visibly tightened. Smoothes the irregularities caused by cellulite.
The hydrophilic moisturizer contained in the serum seeks contact with water and combines with it very easily, which results in a keratoplastic effect (softens the skin). It acts as a permeation promoter, making it easier for other substances to penetrate the skin.
Cleanses the body by activating the lymphatic system. Removes metabolic products, toxins and excess water, which is an essential element in the fight against cellulite.
Stimulates the synthesis of collagen fibers in the dermis and in need of rejuvenation. The presence of micro and macro elements (calcium, bromine, zinc, iodine, iron, copper, magnesium, manganese), proteins, lipids and polysaccharides is especially useful for firming and slimming.
As a result of serum application the skin is perfectly smooth, rejuvenated, firm, the figure is visibly slimmer and cellulite is reduced.
To achieve a satisfactory effect, simply massage the serum in circular motions into cellulite areas until it is completely absorbed. The cosmetic, after application for a better effect, generates a heat factor (possible sensation of heat). It is ideal for use with the body wrapping method, which will enhance the effect. We recommend that during the "penetrating" phase of the treatment, you apply the cosmetic twice a day (morning and evening). If you want to optimize the penetration of skin tissue for even more surprising results, we recommend that you gradually apply small amounts of Go Cellulite Buster after prior massage with Go Scrub.